According to the U.S. Bureau of the Census, about 90 percent of American businesses are family-owned or controlled.
In 2019 there were 30.7 million small businesses in the US, accounting for 99.9% of all US businesses, according to the Small Business Administration. The SBA defines a small business as a firm which has fewer than 500 employees. The definition of a small business varies across the world. For comparison, in the European Union any business that has fewer than 50 employees is considered a small business and in Australia, companies with fewer than 15 employees are considered small businesses (Oberlo).
Also, according to the SBA, small companies create 1.5 million jobs annually and account for 64% of new jobs in the US (Fundera). The most common reason given for opening your own business is to be your own boss according to 55% of respondents to a Guidanfinacial 2019 poll. Thanks to the COVID-19 pandemic, nearly one third of small businesses are not currently operational (Facebook 2020). Over 70% shut down in March as the country went into lockdown in an effort to curb the spread of the virus.
SalesForce says that the new generation of entrepreneurs is more likely to side-hustle (2019). Millennials and Gen Zers are 188% more likely to want to create a side business as compared to Baby Boomers.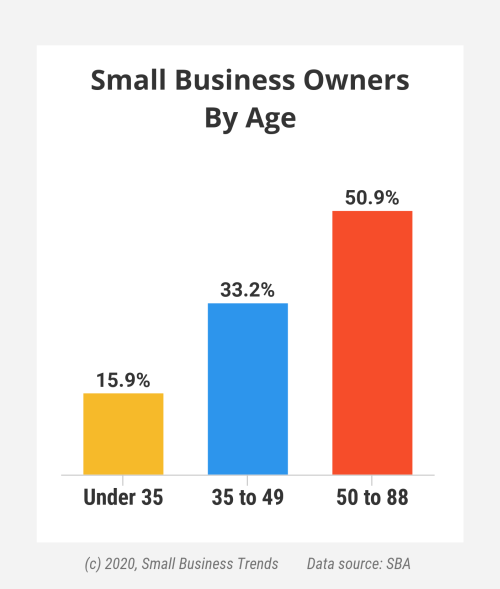 One of the biggest fears that people have when starting their own business is the risk of failure: in fact, more than 50% of small businesses fail in their very fist year, and more than 95% in their first five years. (Converghub 2019). Most businesses (42%) fail because of lack of market demand, according to CB Insights 2019. Be sure you create a business around a need! Some good news: small business loan default rates are currently at an all-time low of less than 2% (SBA).
Small business growth statistics provided by HubSpot also suggest that a neat landing page, a presence on social media, and strong keywords contribute to generating more leads. Yet despite that knowledge, 80% of small businesses still don't invest in content marketing! Marketing experts agree that those firms are missing a key opportunity to increase sales, customer loyalty, and brand awareness. (Clutch).
While Q4 2020 may not seem like a good time for small business, consider enterprising people who were able to shift their business models to support the need for PPE to produce and distribute the life-saving products and are now thriving. The shift to virtual (almost) everything has given way to a whole new element of marketing for existing companies of all types. Moderne specializes in creating programs and experiences for companies and consumers in this new environment we're all figuring out, and we're proud to offer innovative ways to get company's messages out to their target audience. Visit our website to see some of the ways we can help you!