While most people immediately think of live streams and influencers when they think of marketing at NYFW, the 2018 season saw unique and innovative campaigns that stood out from the rest. Brands went for old school chalk stencils, new school AI technology, and the ever-popular pop-ups. Check out our favorite campaigns from the week below.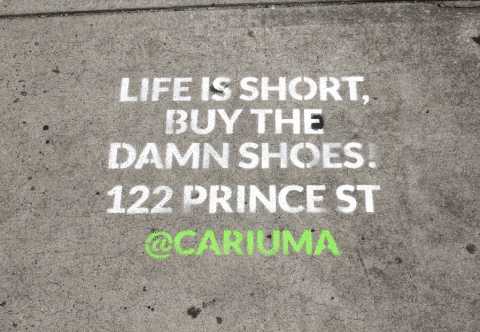 Out Of Home
This year you couldn't walk anywhere in Soho without seeing at least one chalk stencil per block. Amongst stencils for Nicki Minaj's Queen and Ben Sherman, Moderne placed stencils for Cariuma. These stencils were paired with Wild Postings, both directing New Yorkers to Cariuma's Pop Up Shop located at 122 Prince St.
Artificial Intelligence
New Balance created an AI window on the corner of Grand St and Mercer St. that spotted the trendiest New Yorkers and rewarded them with a new free pair of sneakers. A camera installed next to the window detected the clothes of those who walked by. In the video by Mashable below, we see that 60% of people that day wore solid black whereas the Mashable fashion star was wearing stripes.
Pop-Ups
Pop-ups like 29 Rooms and the Saks IT List Townhouse are typically what people expect (and hope) to see at NYFW but we were excited to see something a little different at the A. Human experience. After seeing the Instagram stories of Chrissy Teigen and Tan France, we immediately went searching for this. The immersive experience reimagines popular fashion trends as body modifications. It's both beautiful and a bit creepy.