The Moderne Blogspot- Experiential Marketing Blog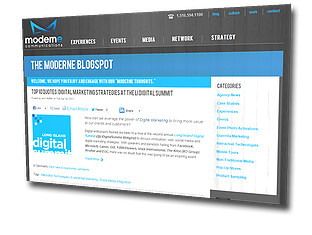 Subscribe to the Moderne Communications Blog, called "The Moderne Blogspot" to receive great marketing content delivered right to your inbox.
The Moderne Blogspot covers everything you need to know about Experiential Marketing. Topics include the latest trends in Experiential Marketing, Non-Traditional Media, Interactive Technologies, Photo Activations, Product Sampling and Social Media.
Get articles like these and more when you subscribe:
Top 10: Quotes About Digital Marketing

How To Reach Consumers When They Are Most Receptive
How To Extend Your Social Influence Through The Use Of Technology
Subscribe to the Moderne Blogspot today: