Every year, thousands of fans look forward to San Diego Comic Con, whether they're actually attending the event or feverishly stalking it through social media. And every year, we look forward to Comic Con to see some of the greatest experiential activations of the year. We've gathered our favorite activations from this year's four day event below for you to check out!
Stranger Things Conference Booth and House
The only way to follow the incredibly popular first season of Stranger Things is to follow it with an incredibly impressive presence at Comic Con. The conference booth on its own was awesome - social share-worthy murals and video screen tunnels brought in tons of Comic Con attendees to the Stranger Things booth. Across the street at the Hilton Gaslamp was a mural taking over a wall of the Hilton as well as the Stranger Things house, featuring costumes, recreated sets (including a Demogorgon), and of course a Barb shrine.
Credit: Mashable
Blade Runner 2049 Pop Up Experiences
It doesn't get more immersive than this. The Blade Runner 2049 experience started off in a theatre with VR headsets. When the VR ended and headsets were removed, the front wall of the theatre had disappeared and in front was the scene where the VR left off. People were then guided through the rest of the experience (featuring actual props and set pieces from the movie) by interactions with actors. Check out more of the experience here.
Credit: The Hollywood Reporter
The Tick Takeover
Was there anything really missing from this activation? Street teams with Team Tick shirts and antennae hats shared survival kits of sunscreen and band aids for comic con attendees. The Tick also had a massive outdoor activation (the center of which was a giant animatronic head with moving antennae), branded portable restrooms to "rid yourself of evil," and recreated sets for fans to explore.
Last chance to control #TheTick's antennae at #TheTickSDCC! Come by before the fun is over at 5 PM! #SDCC2017 pic.twitter.com/TZpkEgSqzM

— The Tick (@TheTickTV) July 23, 2017
Outlander Street Team
Starz certainly made some noise with their street team for their show Outlander. Highland Warriors and bagpipe players made their way down the streets of San Diego with airbrushed Outlander tattoos. To see the team in action check out the video below.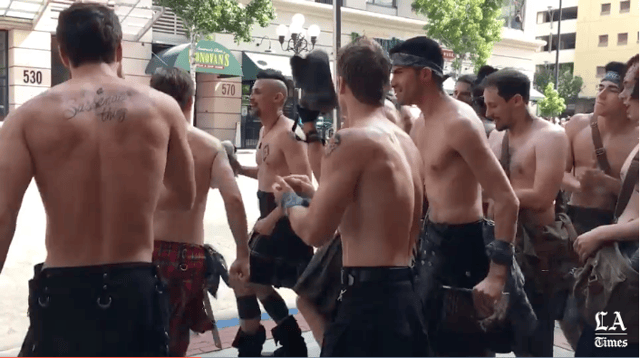 Looking for more great comic con activations? Check out our blogs from last year's San Diego Comic Con and New York Comic Con. Looking to create activations like these? Contact us here.